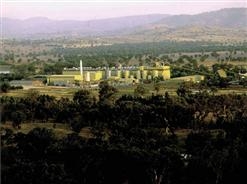 Norske Skog Albury
New South Wales
Located in Albury, New South Wales, the mill commenced production in 1981 and ranks among the best newsprint production facilities in the world.
Annual production capacity is around 274 000 tonnes. This represents about 40% of the newsprint and related grades used in Australia each year.
The mill utilises up to 55% recycled fibre, which is produced in Australia's first large scale newsprint deinking plant. Commissioned in 1993, this facility recycles around 100 000 tonnes of old newspapers and magazines each year. The other source of fibre used at the mill is plantation radiata pine.
| Machines | | PM1 |
| --- | --- | --- |
| Trimmed width | (cm) | 850 |
| Paper quality | | Newsprint |
| Production capacity | (t) | 275 000 |
| Dip content | (%) | 30-55 |
Number of employees: 184
Norske Skog Albury
Hume Highway
Albury NSW 2640
Private Bag
Lavington NSW 2641
General manager: Milo Foster
contactalbury@norskeskog.com
For general enquiries and complaints call +61 2 60583181