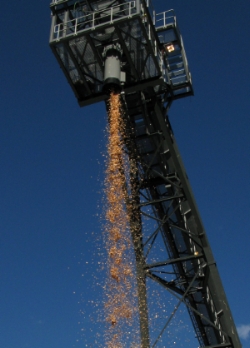 The Boyer mill in Tasmania has converted totally to softwood plantation fibre and is no longer using native timber.
After sixty years of using the local eucalypt resource, this change has generated a multitude of benefits and cements Boyer's position as a sustainable supplier of paper grades.
The sustainability benefits include a dramatic change in resource utilisation with the fibre inputs now 100% plantation softwood together with reduced emissions:
15% reduction in total CO2 emissions
25% reduction in effluent volume per tonne of paper
20% reduction in solid waste to landfill
60% reduction in BOD emission loading
The AUD 50M Softwood Conversion Project involved the conversion of the re-growth eucalypt hardwood Cold Caustic Soda pulping process to a softwood Thermo Mechanical Pulp process.
Innovation was key in ensuring the project achieved it's objectives at minimum capital cost. Existing facilities were reused, the project financing methods were a company first and the entire initiative was characterised by a high level of key stakeholder involvement and support.
Process simplification has been a priority with the number of pulping processes halved. This in turn has helped deliver the step change improvement in environmental capability that assists the achievement of Best Available Technology (BAT) performance levels.
The initiative was welcomed by environmental groups:
Greens MP Tim Morris, said in a press release:
"The Greens welcome the softwood conversion project at Boyer which improves the mills' competitive position, reduces effluent volume by 25% per tonne of paper, reduces CO2 emissions and also means that there will no longer be any native forest used in newspaper manufacture in Tasmania," said Mr Morris.
"Just as the Greens encouraged the Boyer mill to end the use of old growth wood over 20 years ago, we have done the same with ending the use of native forest wood since then and are very pleased to see this come to reality today."
Environment Tasmania and the Wilderness Society also congratulated Norske Skog on upgrades to its Boyer pulp mill
"We welcome the fact that Norske Skog will no longer use Tasmania's precious native forests to create pulp," said Phill Pullinger of Environment Tasmania. " Norske Skog's leadership sets the direction for forest policy and management - politicians and other timber businesses in our state should take notice."

"For the last twenty years, owners of the Boyer pulp mill have been consistently improving its operations," said Paul Oosting, pulp mill and corporate campaigner for the Wilderness Society. "This demonstrates that we can have a sustainable timber industry based on the smart use of existing plantation resources without the need to destroy our ancient native forests. " concluded Mr Oosting.
First chips from the new woodmill at Norske Skog Boyer