Grand prize in sustainable development to The Green Valley and Norske Skog Golbey
On December 2nd 2014 the Green Valley approach has been awarded the Grand Prize in the Circular Economy category of the National Enterprise and Environment contest. The prize was handed over to Yves Bailly, General Manager of Norske Skog Golbey and Michel Heinrich, President of Epinal-Golbey Local Community, by Ségolène Royal, Minister of Ecology, Sustainable Development & Energy Environment (picture). The event took place on the opening day of the European Environment & Energy fair Pollutec in Lyon.
The Green Valley approach has been put in place a few years ago through a close cooperation between the Local Community and Norske Skog Golbey. The initiative was launched when Norske Skog Golbey wanted to optimize the use of its assets, signed first agreement with NRGaïa, a startup manufacturer of insulating material based on recovered paper, who was looking for both a place to settle and a reliable supplier for its raw material (recycled paper).
More generally speaking, the Green Valley approach lies on the possibility to develop industrial synergies between Norske Skog Golbey and future entrepreneur companies, for example in the field of steam production and the share of assets (land, infrastructure…).
Indeed, the Green Valley approach is part of the economical local development process based on willingness, complementarities and confidence between partners and Norske Skog Golbey which is a major local industrial player with a production capacity of 600,000 tonnes of newsprint and 400 employees. Besides, the process is based on a strong public/private partnership, essential point to insure the economical development of the Community.
The Green Valley is a concrete and innovative initiative in the field of territorial and industrial ecology. This initiative has today come true with the setting-up of the Pavatex plant on the industrial site in 2013, a Swiss company specialized in the manufacturing of insulation board based on virgin fibers (€ 60 Million investment, 50 direct and 150 indirect jobs created). Another illustration is the Green Valley Energy (GVE) project consisting in sharing a boiler which will deliver steam to 3 companies and the district heating network in the coming years.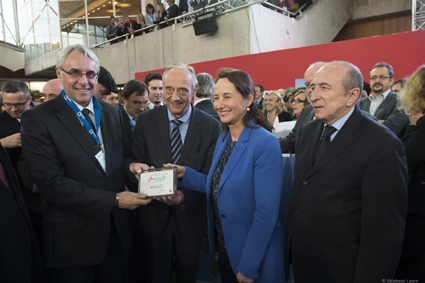 (left to right) Yves Bailly, Michel Heinrich, Ségolène Royal and Gérard Collomb (Mayor of Lyon)