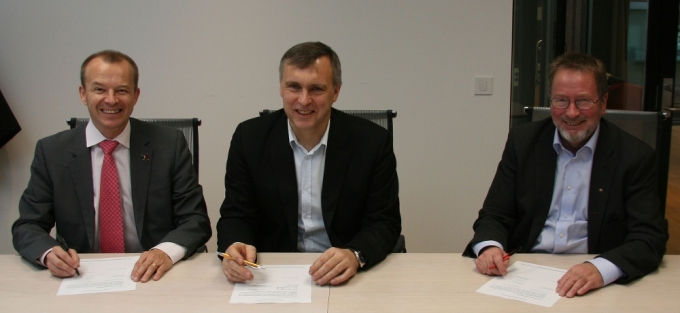 From left General Secretary Jyrki Raina of ICEM, CEO Sven Ombudstvedt and Arve Bakke of Norwegian Federation of Trade Unions.
Renewal of global employee rights agreement
Norske Skog's CEO Sven Ombudstvedt signed on behalf of Norske Skog a renewal of the global employee rights agreement with Norwegian Federation of Trade Unions and the International Federation of Chemical, Energy, Mine and General worker's unions (ICEM).
The agreement covers basic labor rights and standards for safety, wages, working hours and conditions of employment. The agreement describes the implementation and mechanisms for conflict resolution, and contain a clear commitment from Norske Skog to influence their suppliers to respect labor rights.
- Norske Skog has a challenging market, but we are optimistic about the future. We believe in our business. In a moderen world, it is a pre-requisite to nurture a good relationship with our employees. This renewed agreement is validating our committment, said Sven Ombudstvedt, CEO of Norske Skog.
The agreement commits minimum standards to be followed throughout the Group:
The right to organize and the right to bargain collectively
Equal opportunities regardless of race, ethnicity, gender, religion (ILO Convention 100/111 )
All employees are entitled to a safe and secure working environment
Forced labor and child labor are banned
Remuneration should be sufficient to meet the basic needs of the worker and the family , and information about the wage system must be provided before employment
Employment will generally be fixed
Temporary employees and part-time employees will essentially get the same relative conditions as permanent employees.