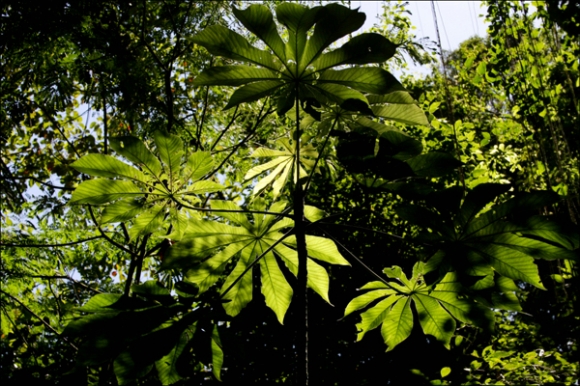 Restoration of Atlantic Rainforest,
the Serra Nativa project
The Atlantic Forest on the Brazilian coast, is a majestic repository of biodiversity and also important for supplies of fresh water, clean air and climate stability for millions of Brazilians. The Atlantic Forest has lost almost 93% of its original area during the last 200 years due to economic and social development. Forest restoration is a key strategy to reverse the present forest fragmentation and promote the long term conservation of biodiversity. The restoration of an area covering 1,300 hectares in the State of Paraná, Southern Brazil is a major environmental initiative carried out by Norske Skog Pisa.
The restoration area at the heart of the Atlantic Forest is located approximately 300 kilometers from the city of Jaguariaíva, where the Norske Skog Pisa mill is located. The 10,000 hectare property was bought by Norske Skog in 2001 as part of Pisa's assets. The area is not suitable for re-establishment to plantation, given its irregular terrain and rich hydrographic features as well as its environmental significance. Federal forestry programs in the 1960s led to pine tree planting in the midst of the native woods. Without proper harvesting management and without the introduction of more restrictive environmental regulations, the non-native species grew out of control over the native vegetation, endangering the rich biodiversity of this very sensible biome.
The plans for the Serra Nativa Project was initiated in 2005 but was officially commenced in December 2009 following negotiations with environmental agencies and authorities securing the required permits. In the first phase of the project, expected to be completed by the end of 2011, all pine trees are to be removed from the area. According to the age and location of the trees, the most suitable harvest method is employed so as to cause the least damage possible to the native woods that remain or that have regenerated. The large amount of rainfall in the Atlantic Rainforest is the major challenge for this phase since it may cause delays in the schedule. In 2010 20% of the pine trees were removed. In the second phase of the project, the pine-free area will be monitored for six years to make sure the species considered non-native and invasive have been completely eliminated.
The high logistic costs and the pine trees' advanced level of development prevent the viable use of this forest for paper manufacturing by Norske Skog Pisa. Pine lumber extracted from the Atlantic Forest is therefore sold to carefully selected clients that use it in sawmills and local furniture factories. The project team is looking into alternative use of the regenerated forest area after its recovery. The Serra Nativa Project is supported by agencies from the Brazilian government and the State of Paraná.