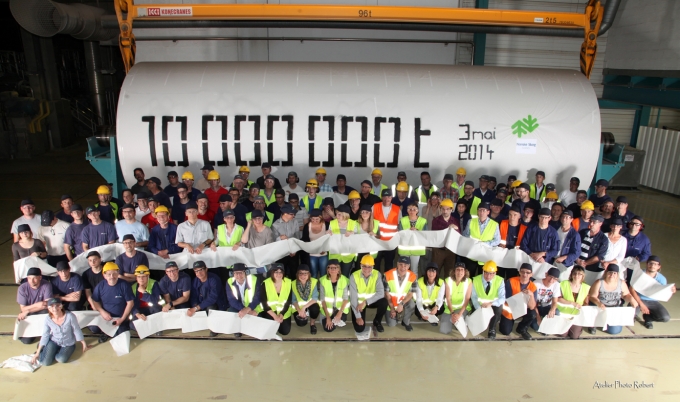 Ten million ton of newsprint
At 1.24 am on May 3rd 2014, PM2 has produced the ten millionth ton of newsprint manufactured at the Golbey mill since its start-up in January 1992.
To mark the occasion, a souvenir photo has been taken and all employees have received a token gift.
Yves Bailly, Managing Director of the Business Unit, has expressed himself as follow:
"As a company having reached a "respectable" age, our history has been punctuated with some milestones and the production of our ten millionth ton of paper is definitely one of them. But beyond the symbolic figure I also see the work, the professionalism, the passion that have made it possible for us to reach today the position of one of Europe's leading newsprint mill. Saying that I mean not only the production capacity, the quality or the profitability ; I also mean our social commitments, the environmental and safety ones among others, since it is now clear that only a combination of all these elements has led us to success and will help us remain at the top in the future.
I thus wish to congratulate all of you, whatever your position in the organization, as it goes without saying that everyone has played a role in our achievements and can feel proud for that ; not forgetting of course our colleagues who have left the mill.
While the situation on the newsprint and magazine paper market has been very challenging over the past years, and still is, I see it natural to feel happy and proud for one success when it occurs. And although we still have challenges and efforts ahead of us, I wish we can tackle them with enthusiasm and passion as well!
To conclude, did you know than 10 million tons of paper are equivalent to 65 times the distance between the Earth and the moon or 624 times the circumference of the Earth? Or 990 times the weight of the Eiffel Tower and 42 % of the surface of France ?... All this at the service of information, culture and entertainment for millions of readers throughout Europe ; all the more reason for us to be proud!"