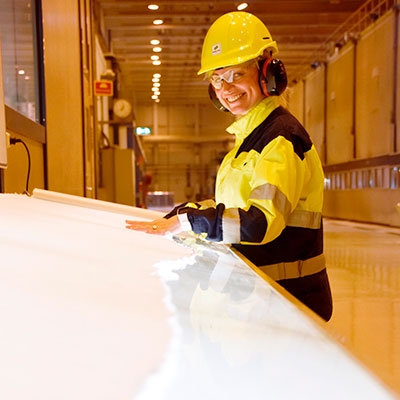 Health and Safety
Health and Safety has the highest priority for Norske Skog, twenty four hours a day, seven days a week. Norske Skog's health and safety programme at the business units, called "Take Care 24 hours", is is under continuous development, but shall always meet the requirements of our health and safety standards for international activities. Our goal is a safe working environment where health and safety receive equal attention in planning and in the daily operations of the company.
All employees in Norske Skog must take responsibility for improving the working environment for themselves, their colleagues, visitors and sub-contractors. Internal cooperation, involving sharing of experience and best practice, enables us to adapt preventive activities to all our mills. Through the activities in Take Care 24 hours, the group stimulates and encourages the same attitudes and behaviour at work and during our spare time, for our own employees and their families.
Norske Skog had an absence rate due to illness of 3.5 per cent per March 2018. We achieved an H1 level, lost time injuries per million working hours in 2017 of 0.71. The H2-rate, all injuries with and without lost time per million working hours, was 5.9 in 2017.