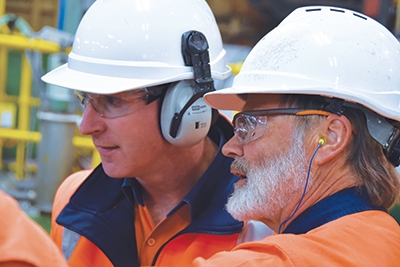 Good leadership and motivated employees
Our vision sets ambitious goals for the future. We believe that good leadership and motivated employees are clear requirements for reaching these objectives.
Leadership principles
Good management builds on our leadership principles and is crucial if we are to meet our goals efficiently and motivate our employees. We want to establish a common management platform across cultures and geographic boundaries. We also want to stimulate each manager to think constantly about improving results by being able to lead processes which create value added for co-workers and the group.
The spirit of Norske Skog
Although we embrace a number of cultures and languages, a strong desire and need has been expressed for creating a common identity across national boundaries and cultures and for communicating and building on each other's best practice.
Cooperation with employee representatives
Norske Skog has developed a policy on cooperation with elected employee representatives based on our core values of honesty, openness and cooperation.
We concluded an agreement in 2002 with the International Federation of Chemical, Energy, Mine and General Workers (ICEM) which sets minimum global standards for employment, health and safety, and human rights for all our employees, suppliers and subcontractors.
However, the most important and valuable collaboration remains direct face-to-face communication with and involvement of employees in day-to-day work. This is a matter of openness and visible leadership.
A corporate identity, commitment and proprietary attitudes throughout the organisation can only be developed when each employee is respected and allowed to be an individual.