Successful launch of packaging paper production and good cash flow from operations in weaker markets
14/07/2023
Norske Skog's EBITDA in the second quarter of 2023 was NOK 380 million, a decrease from NOK 675 million in the first quarter of 2023. The main driver for the lower second quarter EBITDA was lower publication paper sales prices. The cash flow from operations in the quarter was NOK 353 million. During the second quarter Norske Skog entered the packaging paper market with a successful production start-up of Bruck PM3, and the first rolls of packaging paper delivered to customers. The rockslide at Norske Skog Saugbrugs will likely keep the paper machine PM6 out of the publication paper market through the first half of 2024. An insurance compensation for business interruption is therefore recognized in the second quarter results. The start-up of the Golbey conversion project is postponed to the second quarter of 2024.
- Despite the rockslide at Norske Skog Saugbrugs and weakened demand in all segments in the quarter, we have managed to maintain high sales volumes, healthy profitability and a strong financial position. This is also confirmed by the Board's decision to initiate a share repurchase program. We will take necessary responsive actions to meet the challenging market environment in the next half year,"says Tore Hansesætre, CEO of Norske Skog.
Cash flow from operations was NOK 353 million in the quarter compared to NOK 430 million in the previous quarter, positively impacted by change in working capital of NOK 541 million, mostly related to decreased finished goods inventory, trade receivables, also reflecting the receipt of the CO2-compensation for 2022. Operating earnings in the second quarter of 2023 were NOK 146 million compared to operating earnings in the first quarter of 2023 of NOK 85 million. The operating earnings in the quarter were negatively affected by non-cash changes in fair value of energy contracts in Norway amounting to NOK 96 million. Profit in the quarter was NOK 45 million compared to a loss of NOK 181 million in the previous quarter. The net profit was less affected by unrealized currency losses on euro denominated debt than the previous period. Net interest-bearing debt was NOK 1 746 million at the end of the quarter, with an equity ratio of 42%.
The Board of Directors of Norske Skog ASA has decided to initiate a share repurchase programme instead of executing a dividend payment as earlier announced. This is in accordance with the authorisation granted at the annual general meeting. The maximum number of shares that can be repurchased is 9 426 470 shares, equivalent to 10% of the share capital of Norske Skog ASA and limited to a maximum consideration of NOK 472 million. See separate stock exchange release released today for more information.
Norske Skog Saugbrugs rockslide
The rockslide at Norske Skog Saugbrugs on 27 April caused material damage to building structures, cranes, machinery and equipment relating to paper machine PM6. As a result, production at PM6 has been stopped and will likely remain out of production through first half of 2024.
- First of all we are pleased that no one was injuried in this dramatic incident. The rockslide caused damage to the building structure and parts of the PM6 production line. We are still assessing the extent of the damage and the time line of re-building the facility, but it is likely that the machine will be out of production through the first half of 2024, says Norske Skog's CEO Tore Hansesætre.
Norske Skog has property damage and business interruption insurance in line with good market and industry practice. Coverage and self-retention are in line with Saugbrug's defined and adopted risk strategy to create predictability and to limit the financial impact of unforeseen incidents. In the second quarter, NOK 90 million of insurance coverage related to business interruption was recognised for the month of May and June in other revenue. Norske Skog Saugbrugs is covered by an 18 month business interruption insurance coverage.
Norske Skog Saugbrugs has under normal circumstances an annual production of about 360 000 tonnes of supercalendered magazine paper and employs 450 people including apprentices. Saugbrugs PM6 has a capacity of 260 000 tonnes SC magazine paper. So far no temporary redundancies have been needed, but this will be evaluated on a continuous basis.
Norske Skog Bruck packaging paper propduction ramp-up
Norske Skog Bruck successfully commenced recycled containerboard production in the second quarter with an annual capacity after ramp-up completion of 210 000 tonnes, and full utilisation is expected in the second half of 2025. Norske Skog Bruck successfully delivered its first Testliner 3 and Fluting products to its new customers during the quarter, although in a containerboard market impacted by weak demand and market imbalance.
- I am impressed by the entire Bruck team for completing the packaging paper conversion projects with a successful commencement of the PM3 in the quarter. The Bruck conversion project represents an important milestone in becoming a leading independent supplier of recycled containerboard in Europe. We are now regularly delivering packaging paper volumes to our customers, says Tore Hansesætre, CEO of Norske Skog.
Norske Skog Bruck held the official opening of the Bruck PM3 on 22nd of June with participation from the the Austrian government, numerous public officials and Norske Skog board and management.
Status other projects
At Norske Skog Golbey, the conversion of the newsprint paper machine (PM1) into recycled containerboard paper production is progressing with full strength. However, due to a revised plan for installation tasks, the expected start-up is postponed to the second quarter of 2024. The net project capital expenditure is expected to be EUR 265 million.
The conversion of the two newsprint machines at Bruck and Golbey will eventually add 760 000 tonnes of new low-emission packaging paper capacity after ramp-up completion in 2026. The packaging paper production will be fully based on recycled fibre. Golbey PM1 will utilise renewable energy generated from the biomass plant under construction at the Golbey industrial site (Green Valley Energie).
In Norske Skog Bruck the new energy plant is now operating at full design capacity after the completion of modification and optimisation work during the first quarter of 2023. The waste-to-energy facility significantly reduces the gas consumption, and thus CO2-emissions, for Norske Skog Bruck.
Norske Skog Skogn has started ordering necessary refiners and equipment for the net NOK 180 million new thermo-mechanical pulp (TMP) line, which substitutes expensive recovered paper with fresh fibre. The expected start-up will be in the first half of 2024. The new TMP line will reduce variable costs, in addition to reducing NOx emissions, fossil CO2-emissions and waste sent to landfill.
Operations
Total annual publication paper production capacity for the group is 1.4 million tonnes after the temporary idling of Norske Skog Saugbrugs PM6, with 1.1 million tonnes in Europe and 0.3 million tonnes in Australia. Bruck (PM3) started production of recycled containerboard paper in the second quarter, and Golbey (PM1) plans to start in the second quarter of 2024. Norske Skog will after the ramp-up of Bruck and Golbey have an annual capacity of 760 000 tonnes of packaging paper production.
According to Eurograph, demand for standard newsprint in Europe decreased by 22% through May 2023 compared to the same period last year. SC magazine demand decreased by around 26%. LWC paper demand decreased by around 29% through May compared to the same period last year. According to official Australian trade statistics, demand for newsprint and coated mechanical decreased by 11% and 12%, respectively, through May 2023 compared to the same period last year. For the packaging paper production, it is expected that the containerboard machines will operate at 60-70% utilisation in the first year of operations and reach full utilisation during the third year of production.
Publication paper
Lower publication paper sales prices were somewhat offset by higher delivered sales volume despite the idling of Saugbrugs PM6 in the second quarter. The relatively weak Norwegian krone increased the competitiveness of the Norwegian business units. The sales price decreases were driven by softened demand and market imbalance for publication paper.
Variable cost per tonne slightly increased in the quarter with higher cost of materials per tonne. Fixed costs per tonne decreased slightly due to higher delivered volumes. Group capacity utilisation was 77% in the quarter, respectively 74% in Europe and 92% in Australasia. Saugbrugs PM6 is excluded from the calculation from 27 April. The weakened publication paper demand caused some operational down-time in the quarter, which impacted the capacity utilisation in Europe.
Packaging paper
The packaging paper machine at Bruck is expected to operate at 60-70% utilisation in the first year of operation and reach full utilisation during the third year of production. The operating income for second quarter consists of revenue from deliveries and gate fees from incineration, which was more than offset by variable and fixed costs in the period.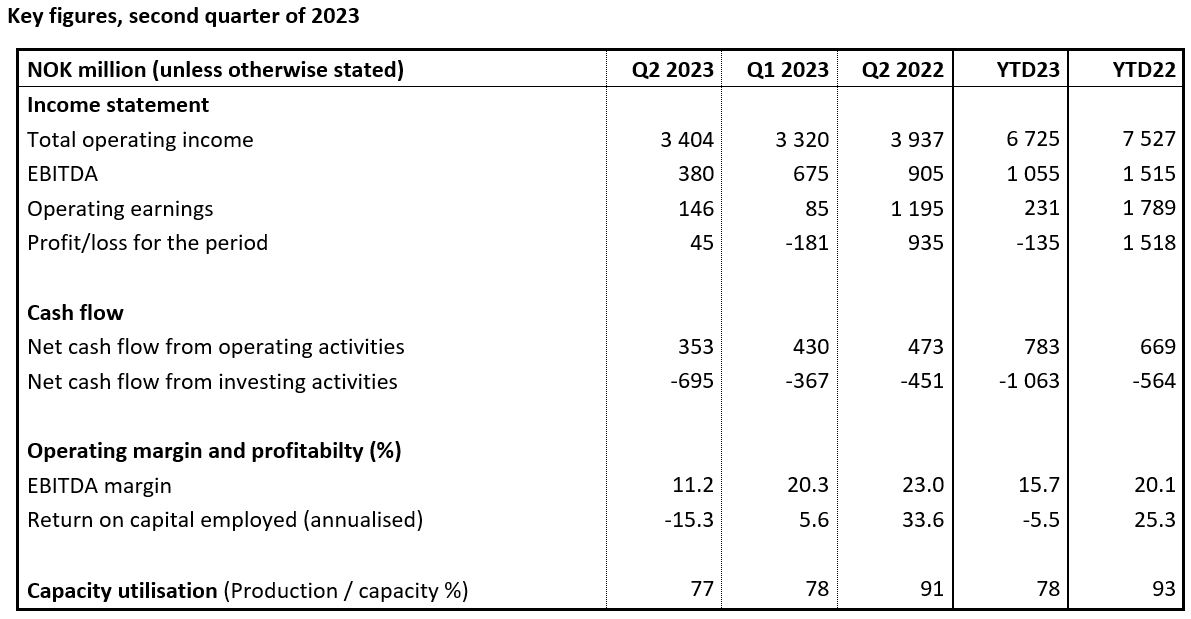 Outlook
The development in the global economy is of vital importance for consumer spending, and this impacts the publication paper and packaging industry, and thus Norske Skog's operations and results. The global economy is expected to remain weak in 2023.
The raw material and energy markets which are key for both publication paper and packaging paper are expected to remain uncertain. Raw material and energy prices are expected to be lower than from the record levels experienced in 2022, but are still above historical average levels.
Development of input costs and demand for paper will influence paper sales prices in Europe. The decrease in energy prices and decreased demand for publication paper is expected to result in lower sales prices in the coming period.
The decreased demand for publication paper and packaging paper has initiated further announcements of capacity closures in the industry to improve the imbalance in demand and supply for both publication paper and packaging paper, but capacity utilisation is expected to remain weak in the coming period as further closures are required. Norske Skog's European operations are cost-competitive, and the group will continue to temporarily adjust production to customer demand.
In Australasia, price increases will be implemented in the second half, but reduced demand in the region may require increased export volumes.
Norske Skog Saugbrugs PM6 will remain out of the SC market in the coming period, while the production of recycled containerboard in Bruck is expected to increase in line with normal ramp-up curve.
Simultaneously, Norske Skog will continue to develop its industrial sites, among others within bio products and renewable energy, both on a stand-alone basis and in partnerships.

» Report second quarter 2023
» Go to webcast
Norske Skog
Communications and Public Affairs

For further information:
Norske Skog media:
Vice President Communication and Public Affairs
Carsten Dybevig
Email: carsten.dybevig@norskeskog.com
Mob: +47 917 63 117

Norske Skog financial markets:
Investor Relation Manager
Even Lund
Email: even.lund@norskeskog.com
Mob: +47 906 12 919