CEBICO is a compound material of TMP wood fibres and thermoplastics that can be used within the plastic converting industry. The addition of TMP fibres gives increased mechanical strength to the plastic compound, and can substitute glass fibre filled compounds like PPGF. The thermoplastic can be polymers like LD/HD-PE and PP, virgin or recycled. Bio-based plastics can also be used. TMP fibres as reinforcement increases the applicability of recycled plastic because it becomes stronger and stiffer.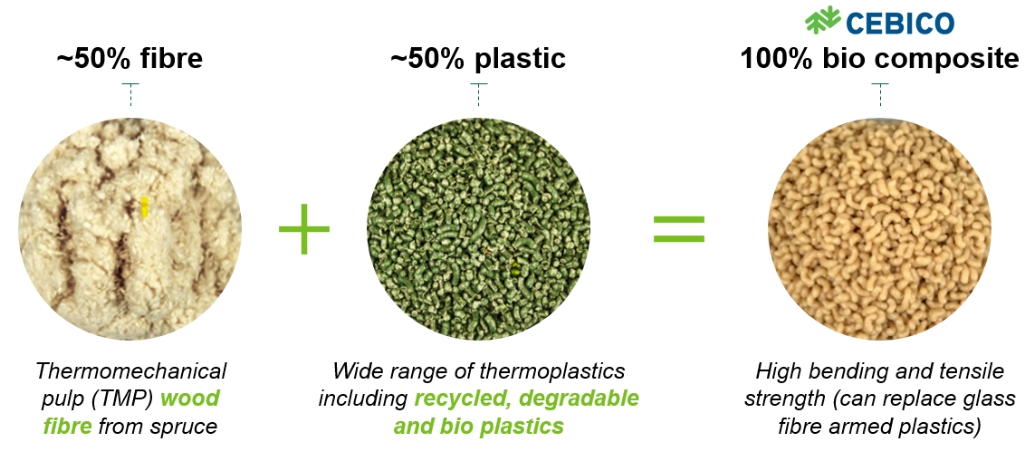 TMP, or thermomechanical pulp, is a bio-based fibre material commonly used in paper production. In the TMP process, spruce wood chips is transformed to single wood cells, or fibres, using refiners and clean electric energy. The TMP fibres are produced from renewable and certificated raw materials and has very low carbon footprint.
The addition of 30-50% TMP wood fibres in plastics reduces the CO2 footprint of the finished product. Typically, substitution of one kg fossil-based thermoplastics with TMP fibres will reduce the consumption of oil by 2 kg, and reduce carbon footprint with 6 kg CO2 equivalents.
The CEBICO compound is delivered as a pellet and can be used for injection moulding, extrusion, hot pressing and other conversion techniques. The material can be recycled.
Potential uses are in packaging, consumer goods, furniture, automotive, maritime, construction industry etc.
For more information on CEBICO or other inquiries, please contact CEBICO@norskeskog.com