What is CEBICO?
CEBICO is our environmentally friendly alternative to thermoplastic. The material is a natural fibre composite, consisting of TMP dispersed in polymer matrix. By mixing the two components together in a controlled process, we create a composite with improved mechanical properties at the same time as we reduce the volumetric usage of plastic. CEBICO is delivered as standard pelletized format for injection moulding and other conventional manufacturing process.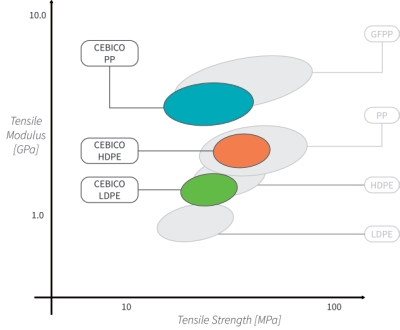 Figure 1: CEBICO composite will give increased stiffness and strength to the main polymer.
What is TMP?
TMP, or thermomechanical pulp, is a bio-based fibre material commonly used in paper production. In the TMP process, spruce wood chips are transformed to single wood cells, or fibres, using refiners and clean electric energy. The TMP fibres are produced from renewable and certificated raw materials and has very low carbon footprint.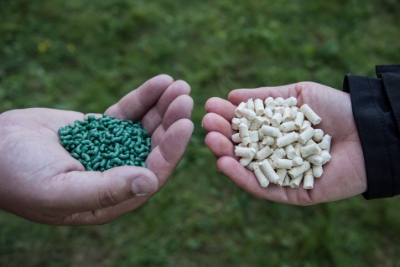 Figure 2: To the left is green CEBICO pellets, standard for conventional plastic manufacturing processes. To the right is TMP pellets used as raw material for manufacturing of CEBICO.
What can CEBICO be used for?
CEBICO can replace many common thermoplastic materials, convertible in the same conventional manufacturing processes without need for modifications or need of additional machinery. CEBICO have material properties that matches needs in application areas such as automotive, furniture, home appliances, consumer electronics, containers, hardware etc.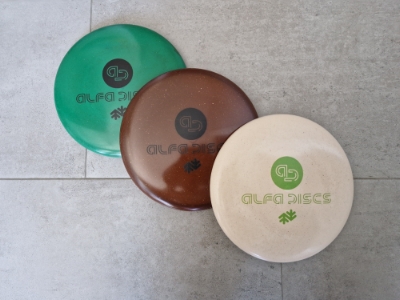 Figure 3: Frisbee made of a CEBICO grade, specially formulated to meet the requirements; tough, flexible and high scratch resistance.
What impact does it have?
By substituting petroleum-based plastic with TMP kilo-by-kilo, we reduce the carbon footprint with 6 kg CO2 equivalents. Plastic grades that are based on recycled material reduces the carbon footprint even further by increasing the lifespan of the plastic material. CEBICO is also recyclable by grinding, melting and reforming into new products.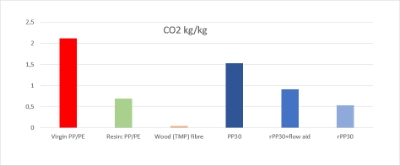 Figure 4: Graph shows raw materials and production to mill gate. Our recycled plastic with 30% fibre alternative gives 57% reduction in carbon footprint.
How good is it?
The material properties can in most cases replace other fibre reinforced plastic. Like all fibre reinforced plastic, mixing TMP with polymer will increase the stiffness, strength and toughness of the main polymer. The enhanced mechanical properties give freedom to design for reduced material usage, indirectly reducing the plastic usage further. We also have the possibility to change the processing of TMP, extrusion and pelletizing to optimize the material properties after our different needs and application areas.

Product

Fibre content (%)

Key properties

Application area

CEBICO rPP30

30

High stiffness

High strength

Good flow

Low shrinkage

Furniture

Automotive industry

Home appliances

Consumer electronics

Pipe and construction industries

CEBICO LDPE30

30

High toughness

Good flow

Low shrinkage

Automotive industry

Home appliances

Consumer electronics

Containers

Hardware

CEBICO HDPE30

30

High stiffness

High strength

Low shrinkage

Furniture

Automotive industry

Consumer electronics

Pipe and construction industries

Containers
Figure 5: We have different subcategories for each product type, giving us a wide range of material properties.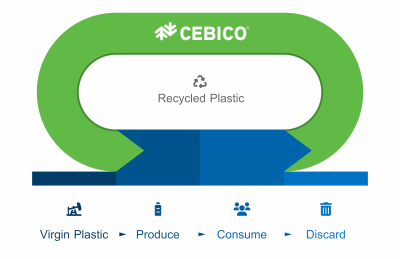 Figure 6: Recycling CEBICO additional to using recycled plastic material, we can achieve a better circular economy.
What potential can it have?
We are currently exploring and developing CEBICO grades based on bioplastic trying to achieve even more environmentally friendly products. CEBICO bioplastic will become 100% bio based and will be sustainable and renewable.
Are you looking for a sustainable replacement for thermoplastic? Get in touch with us: cebico@norskeskog.com